&nbsp &nbsp &nbsp &nbsp &nbsp &nbsp A passionate organist, he visited all churches nearby
and was notably taken by the outstanding acoustics of Marbella's
main church. The idea came to him that a great organ should be
built thus providing residents and visitors alike the opportunity
to hear cassical music in this unique setting. Monseñor Rodrigo
Bocanegra, Pastor of the church at the time, was enthusiastic
about the idea and signed the contract in 1971 for the construc-
tion of a major concert organ of 5000 pipes, the Organo del Sol
Mayor. Thus one of Michael Reckling's most cherished dreams
came true when he himself had the honour of playing the inau-
gural concert in 1975. With its 5000 pipes it is one of the most
important organs built in Spain in the 20th century.

Excellent CD produced with Spain's leading concert organist Pilar Cabrera.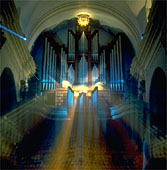 Organo del Sol Mayor
- Marbella -